Drawings and schemes: How to find Cassiopeia constellation

How to find Cassiopeia constellation
"The ancient Egyptians believed that the drawings of the constellations are messages from the gods, you only need to learn how to understand them correctly."
Google translator 2019, December, original text: How to find Cassiopeia Constellation (Russian)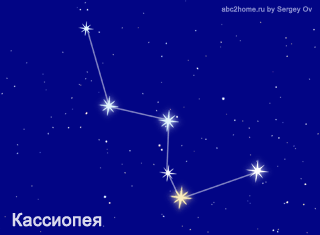 Fig. 1.Cas Cassiopeia constellation, scheme
The constellation Cassiopeia is usually found by the asterism of Throne. It would be better if someone showed youthis Throne. It is enough to see this configuration of five stars (plus one dimmer) once in the sky, and it will become recognizable forever!
Asterism The throne (W-asterism, M-asterism) is the five unforgettable pearls of the northern sky.

Independently, the constellation Cassiopeia can be found as follows:
1. If you live approximately at the latitude of Moscow, then literally from the very beginning of autumn, going out closer to midnight local time, you will find the asterism of Tron directly above your head, at its zenith. You just have to correctly determine the angular dimensions of the throne and mentally build its pattern on the stars.
The largest angular distance in the asterism Tron, between Segin (ε Cas) and Kaf (β Cas), is about 13 °. The angular distance between the thumb and forefinger of the outstretched arm of an adult is 16-18°, so the Throne against the background of an outstretched arm will look approximately as shown in Fig. 6.Cas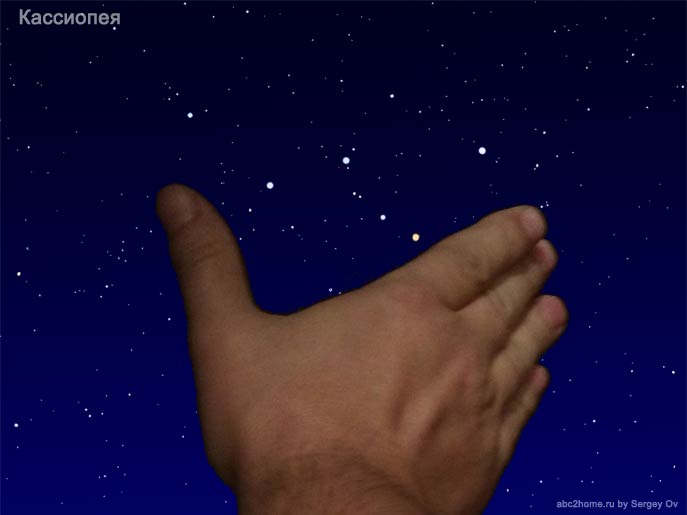 Fig. 6.Cas Estimation of the angular size of the asterism "Tron" in the constellation Cassiopeia with outstretched arm. This image as if underlines the compactness of the placement of bright stars of Cassiopeia
2. The all-seasons method for determining the location of Cassiopeia, is to "targeting" the beam, through the already known stars. The best "shot" will be obtained if you continue the line from Aliot (ε UMa) for Polar Star (α UMa) and you get the exact hit in Gamma Cassiopeia Navi (γ Cas), moreover, taking a closer look, you will find that the Big Dipper and the asterism of the Throne of Cassiopeia are located centrally symmetrical with respect to the North Star.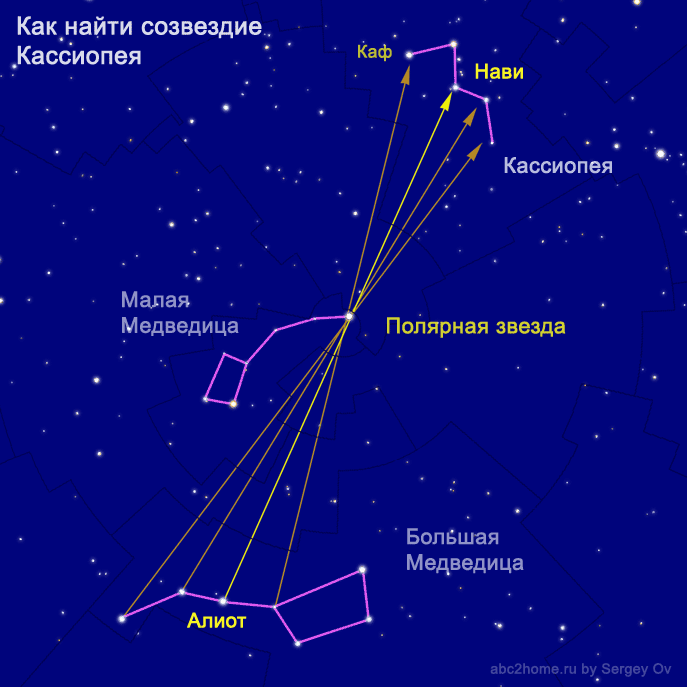 Fig. 7.Cas How to find the constellation Cassiopeia? - Very simple! You need to mentally draw a line through Aliot Ursa Major and Polar Star - it will lead to the brightest star of Cassiopeia Navi (yellow line) . There are other options: from any of the stars of the handle of the Big Bucket, also draw lines to the Polar, they will all lead to Cassiopeia ...
In such a position as in Figure 7.Cas the constellations Ursa Major and Ursa Minor, Cassiopeia and Throne can be seen in late spring evening.
Sergey Ov (Seosnews9): Созвездие Кассиопея, третье созвездие Севера.
1. The Perseus family includes the constellations:
Cetus, Pegasus, Andromeda, Auriga, Perseus, Cassiopeia, Cepheus, Lacerta, Triangulum.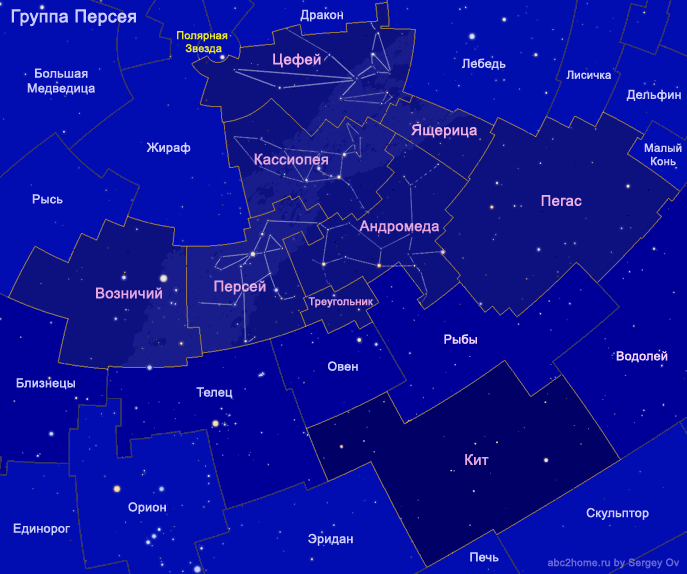 Fig. 16.Cas The Perseus family of Constellations
The constellations Cetus, Pegasus, Andromeda, Perseus, Cassiopeia, Cepheus are united by a common mythical plot, and, so to speak, Auriga, Lacerta, and Triangulum "gotten into a family" got here due to the common borders of (or because there is nowhere else to attach them...).
●Home

Zodiac signs

Constellations ✔ How to find Cassiopeia constellation